The earbuds from
the future.
Designed to disrupt the wireless earbuds market, HYPHEN have every premium feature of high-end competitors, plus Advanced Touch Control and Wireless Charging, at an aggressive price.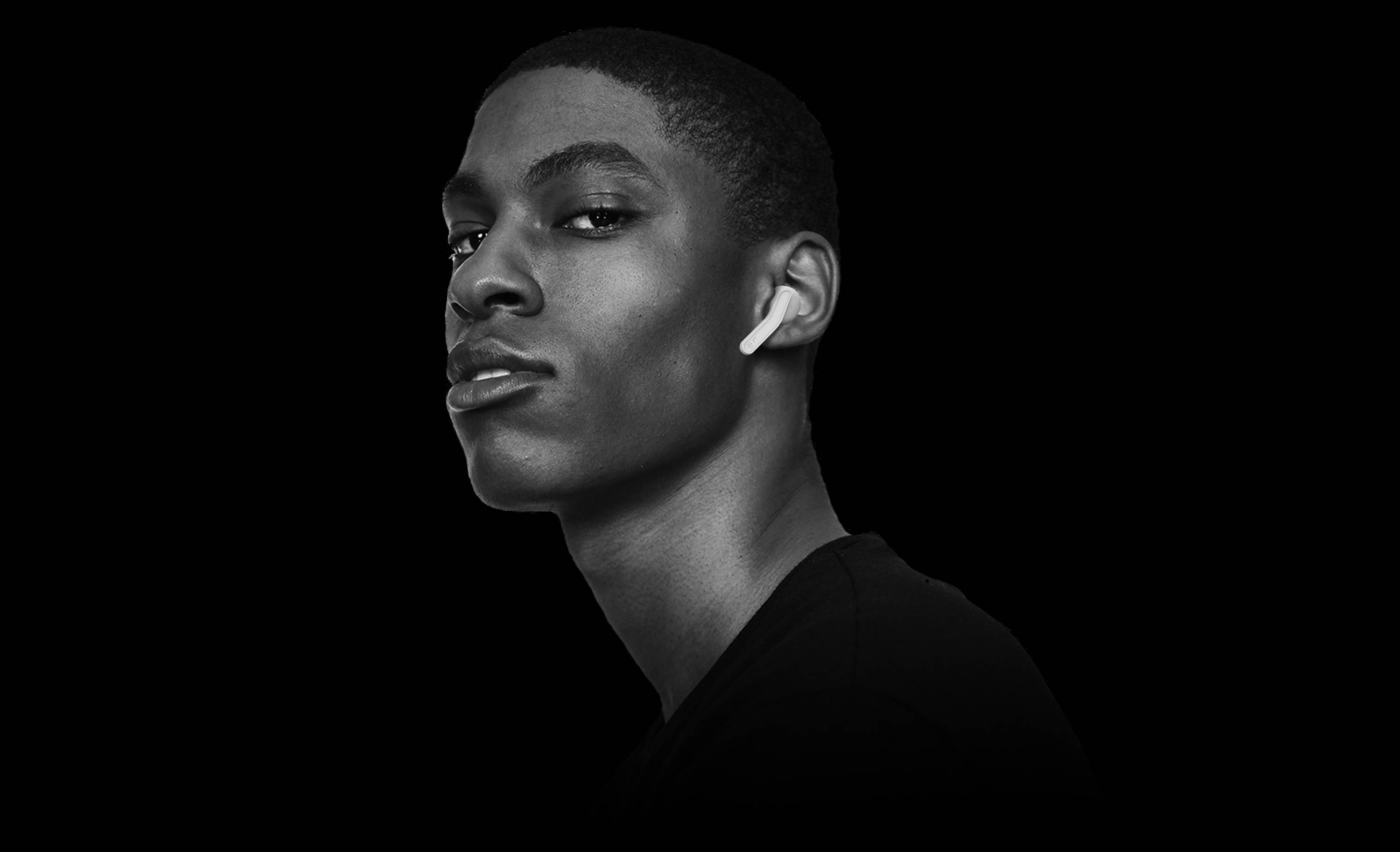 The most complete wireless earbuds.
HYPHEN have been designed with real functionality in mind. Stop overpaying, get premium earbuds at an affordable price today.
Engineered in every detail.
Integrated Wireless Charging
Advanced Touch Control
Bluetooth 5
IPX5 Water Resistance
Seamless Pairing
15 Meters of Listening Distance
Advanced touch control.
Right now, most wireless earbuds only offer limited commands, such as play/pause or waking up a virtual assistant.
HYPHEN will give you a level of control over your phone never seen before. The Advanced Touch Control will let you stay off your smartphone for most tasks.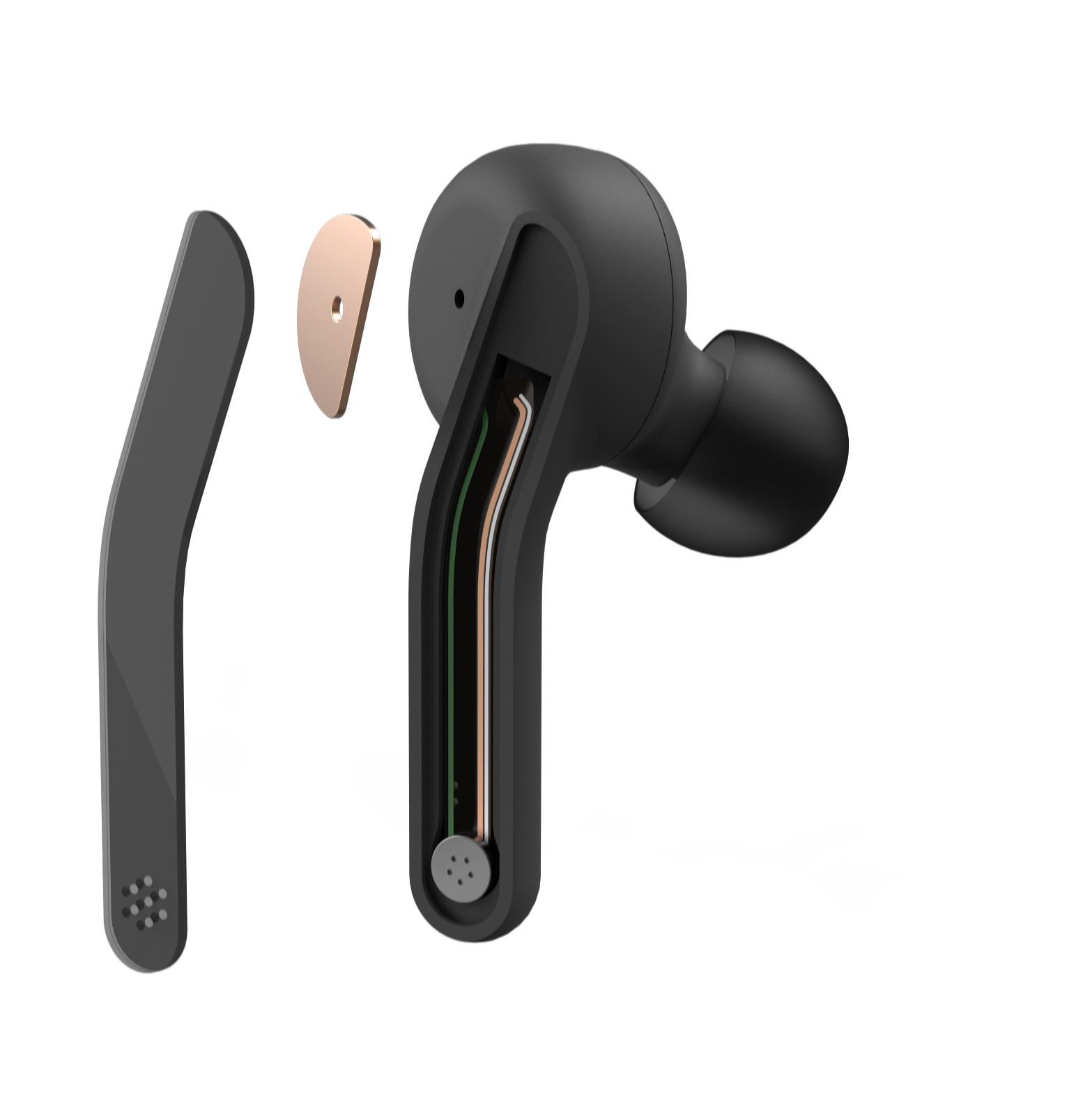 Wireless
Charging.
Still absent from 99% of models on the market, wireless charging is the future of portable devices. In a product that is meant to be used everyday, we couldn't ignore its convenience.
No need to buy clumsy adaptors, Hyphen features integrated wireless charging.
Qi certification.
Our ultra thin wireless charger is designed to perfectly match HYPHEN, but it can charge all of your devices.
Thanks to its Qi certification, it even supports fast charging! It's available in Night Black and Pure White.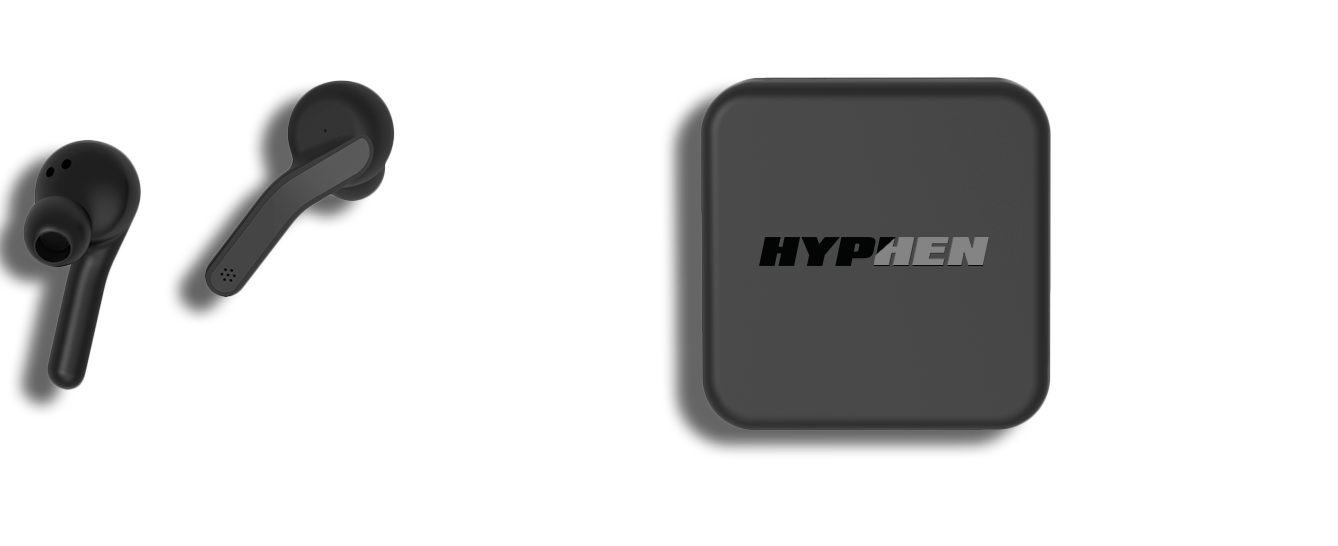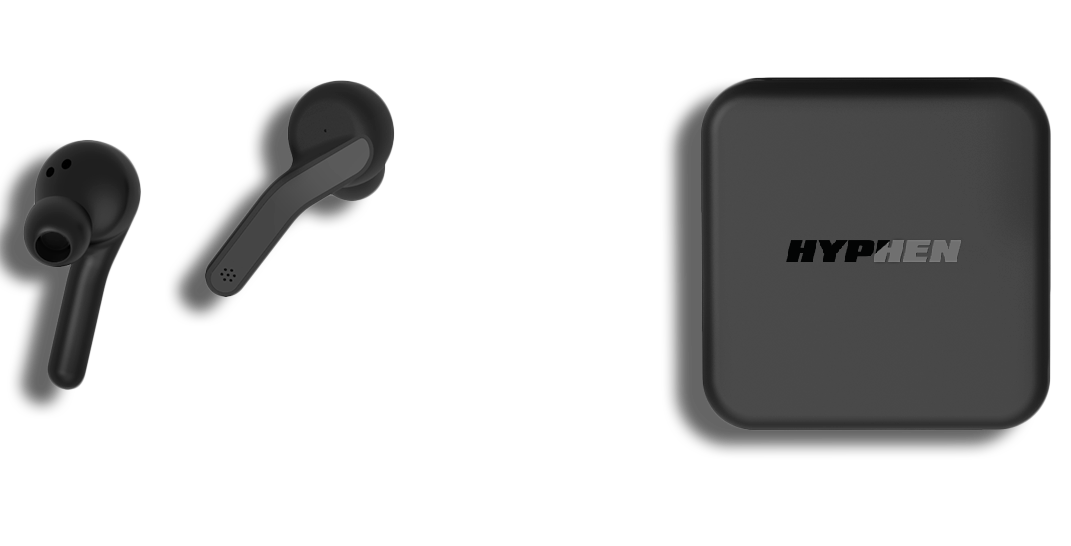 Never run out of battery.
Of course a long battery life and portability of the device are inversely proportional. Some users value more a tiny EDC product, others prefer a longer battery life at the expense of portability.
HYPHEN will let you listen for up to 28 hours in one of the smallest cases on the market.
Fast

charging.

 

Thanks to Hyphen's fast charging technology,

you will be ready to play your favorite songs in just 15 minutes.
Premium sound
quality.
Thanks to the Advanced Audio Distribution Profile support, HYPHEN delivers precision-tuned sound.
Our 6mm driver provides for a full-range listening experience, satisfying even at lower volumes.
Precision-tuned sound.
What immediately sets cheap earbuds apart from premium ones is the quality of the audio.
Hyphen's noise isolating ergonomic tips will give you the silence needed for a crisp and clear audio delivery.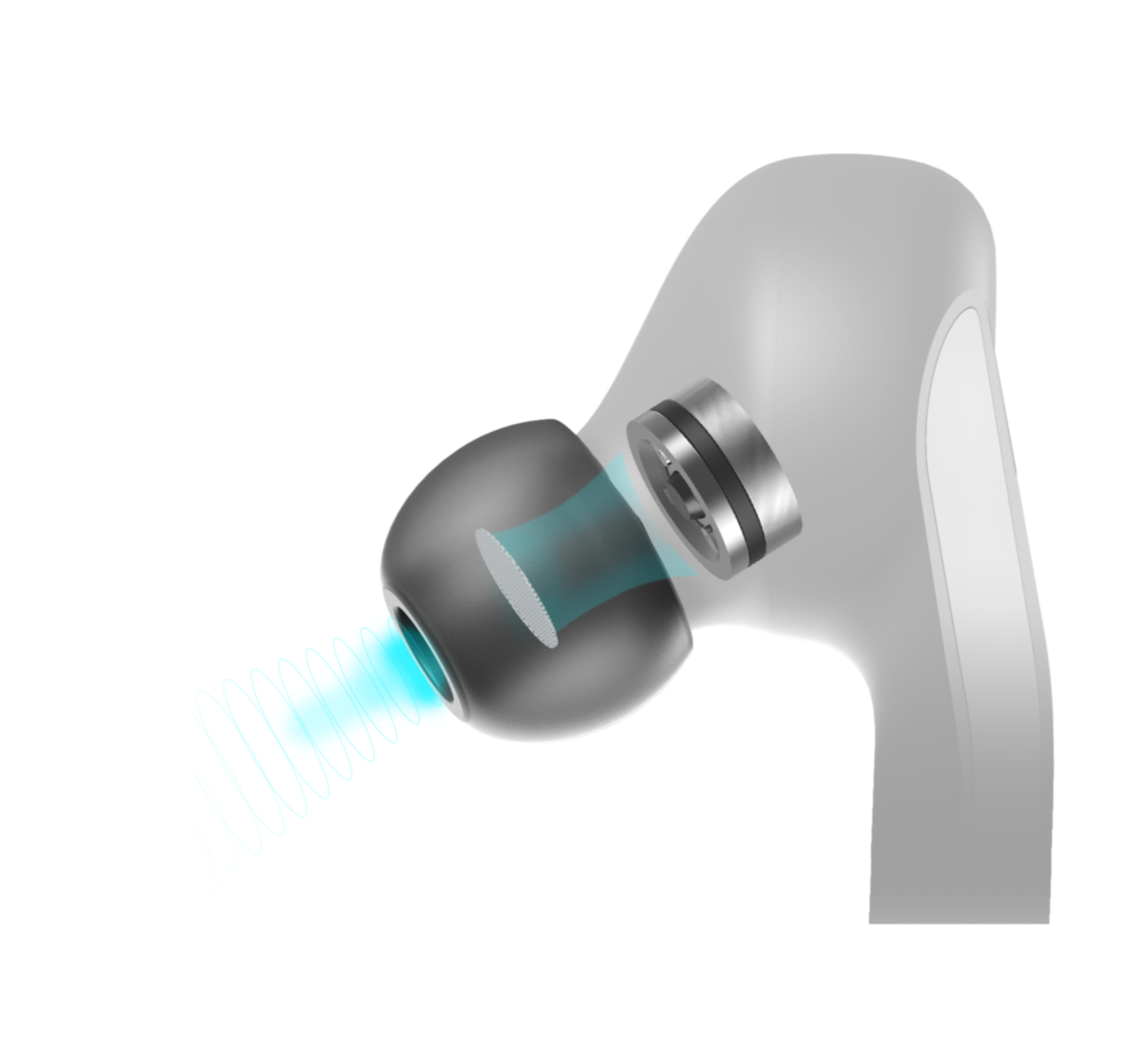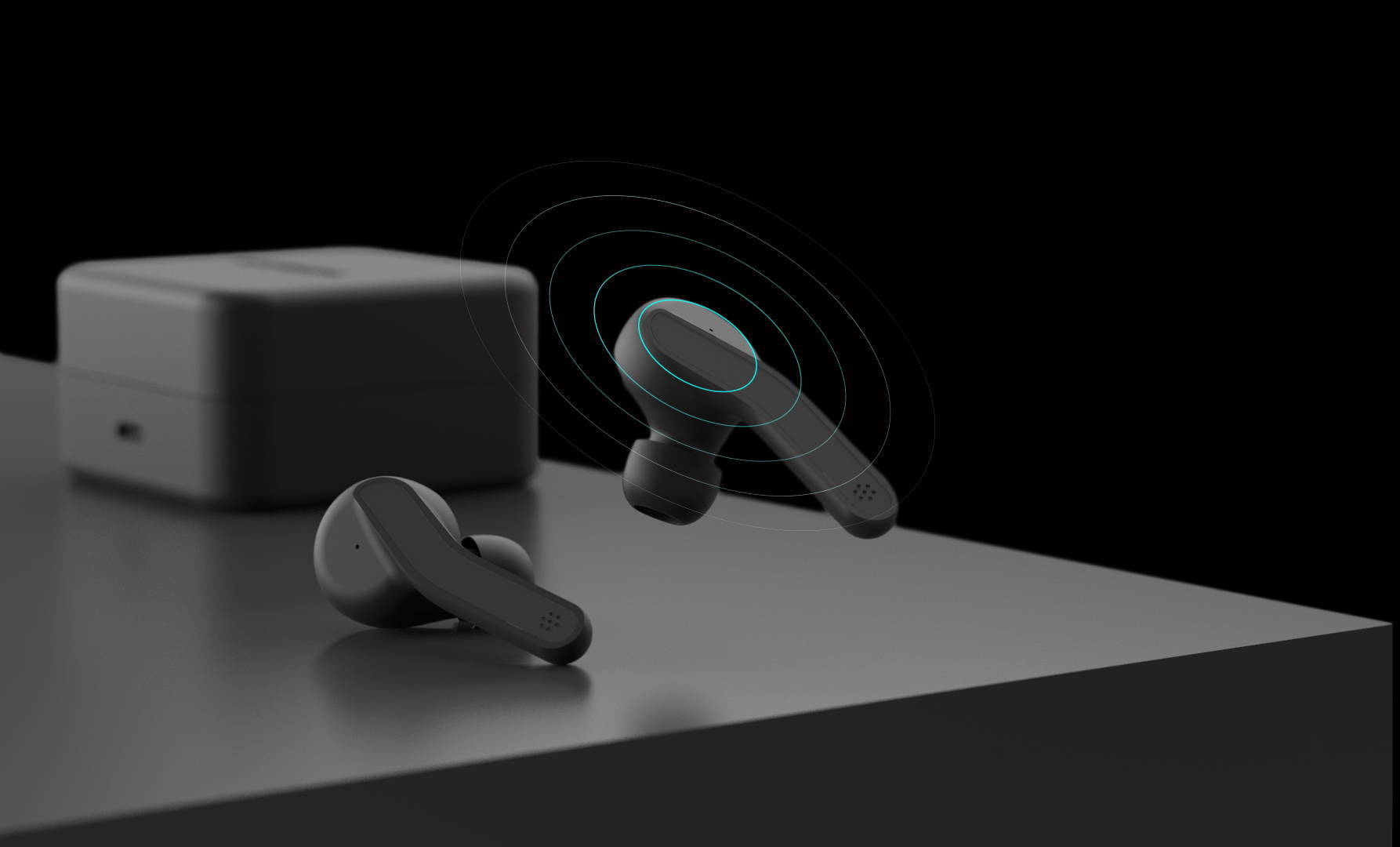 Bluetooth 5.
With Bluetooth 5, HYPHEN will have the most reliable connection possible, for instant pairing and a seamless communication with the smartphone.
This means extremely detailed sound dimensions and close to zero audio-video lag.
Seamless

pairing

.
A complex pairing process is typical in earbuds that were designed with only hardware in mind.
This is a common issue to both low and high priced products, and it's one of the most frustrating usability issues.
Ergonomic fit.
HYPHEN's shape is based on the analysis of dozens of different ear shapes, to achieve the best comfort and grip in every situation.
We chose a mix of soft touch plastic and a glass like surface for a pleasant feel in the ear and in the hand.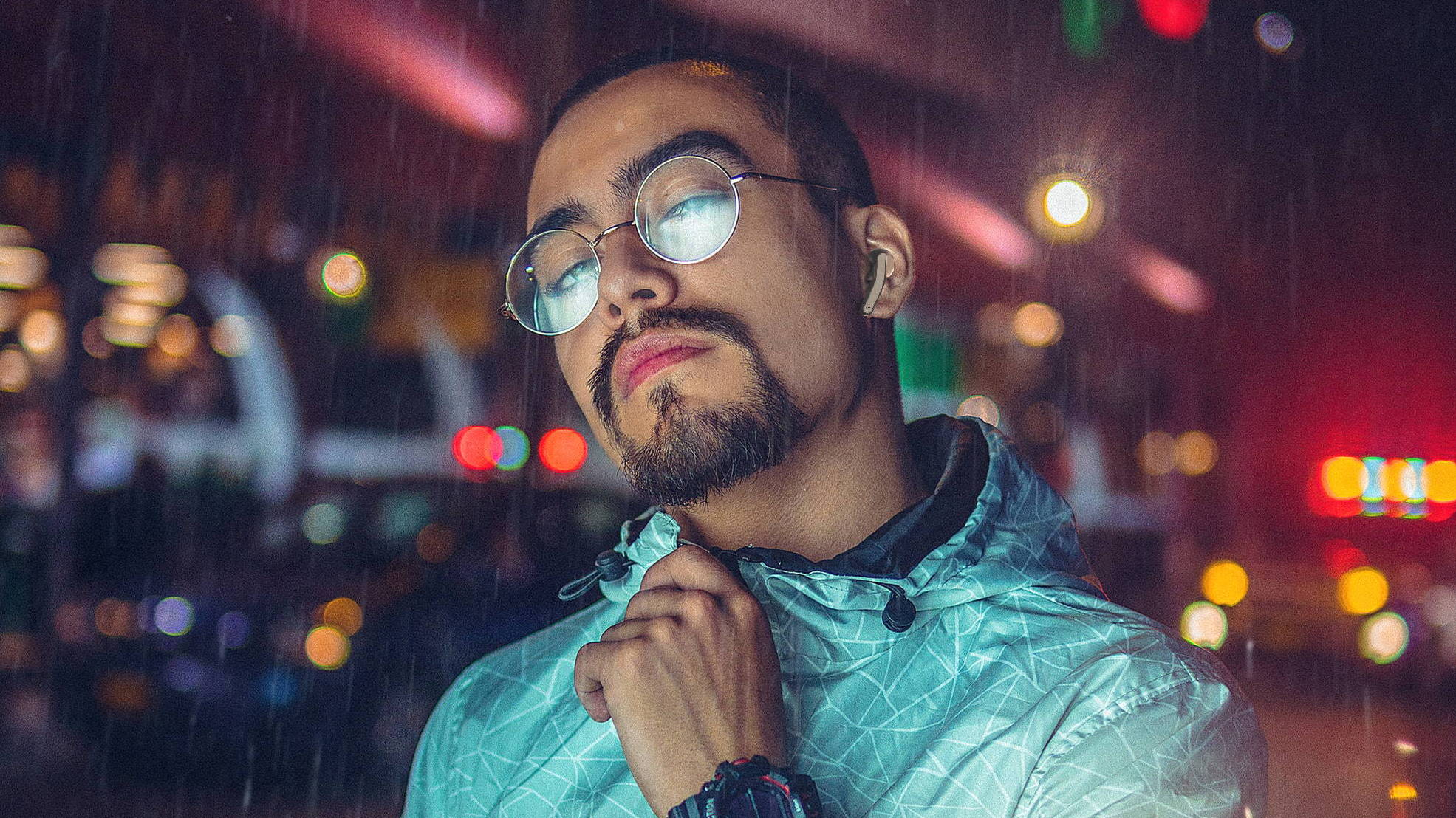 IPX 5 water
resistance.
IPX5 certified water resistance means you won't have to worry about getting your earbuds wet anymore.
There are no more excuses to skip that workout.
15 m
connection.
Calling and listening to music
while moving around the house will not a problem anymore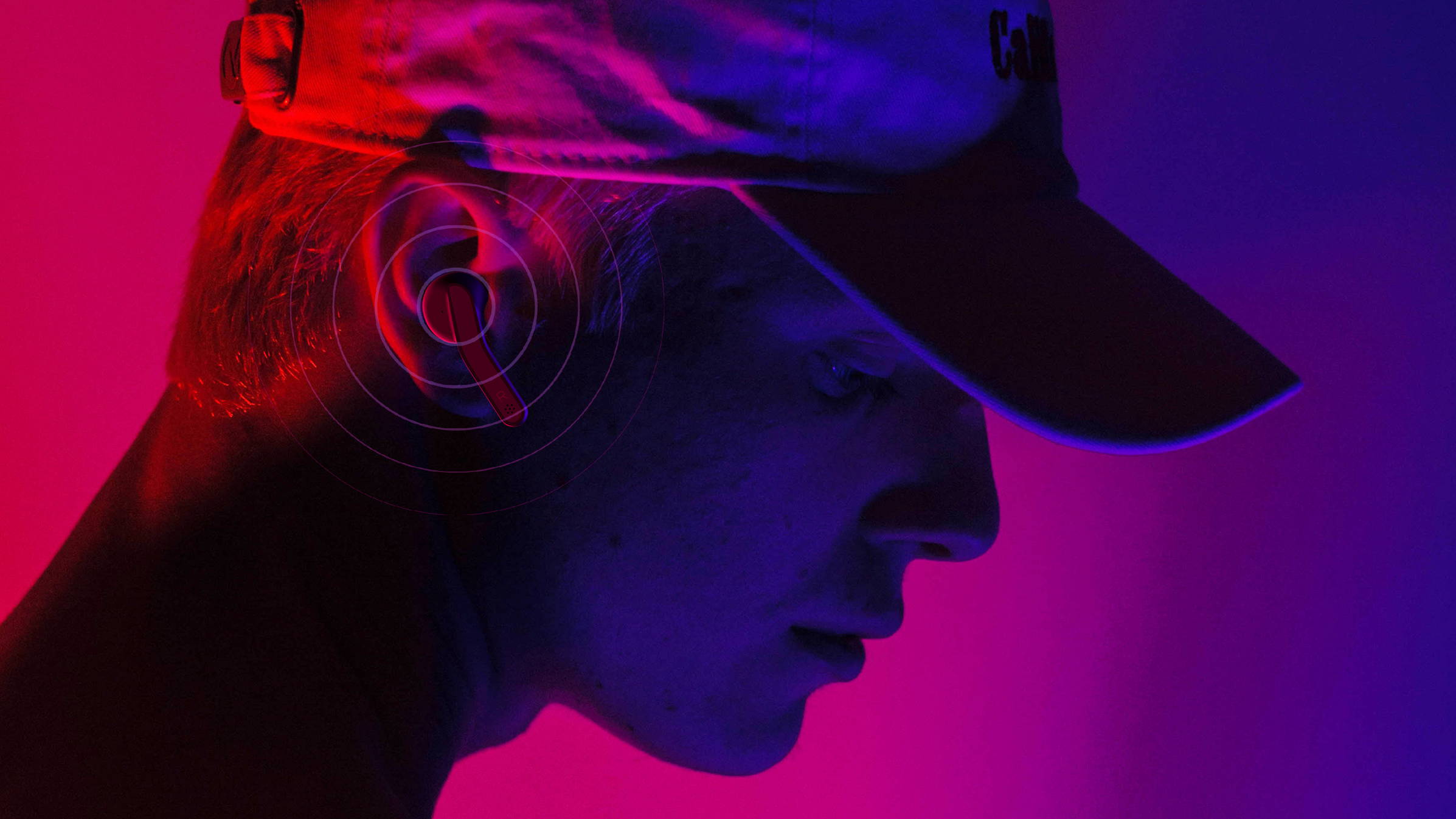 15 m
connection.
Calling and listening to music
while moving around the house will not a problem anymore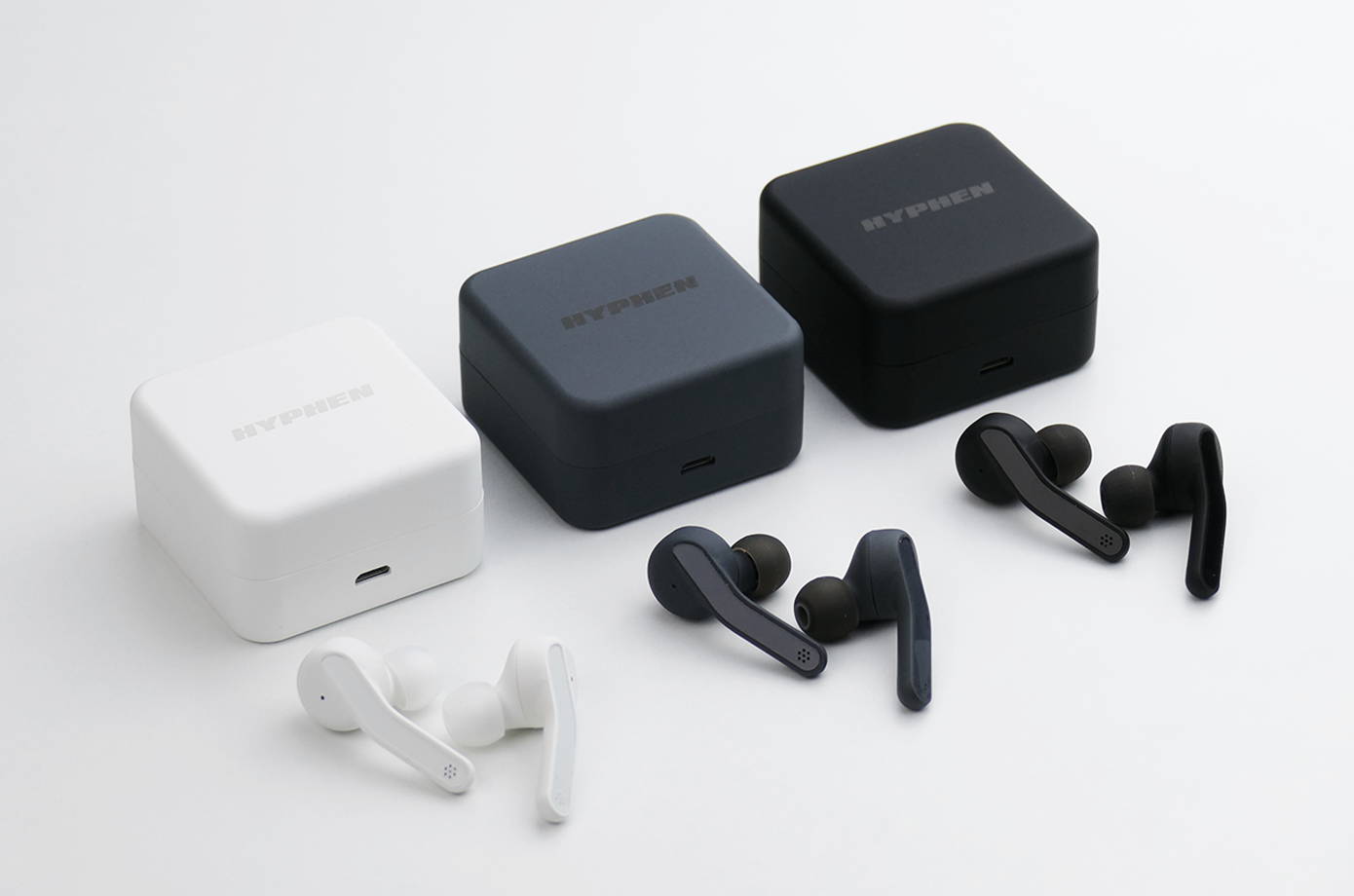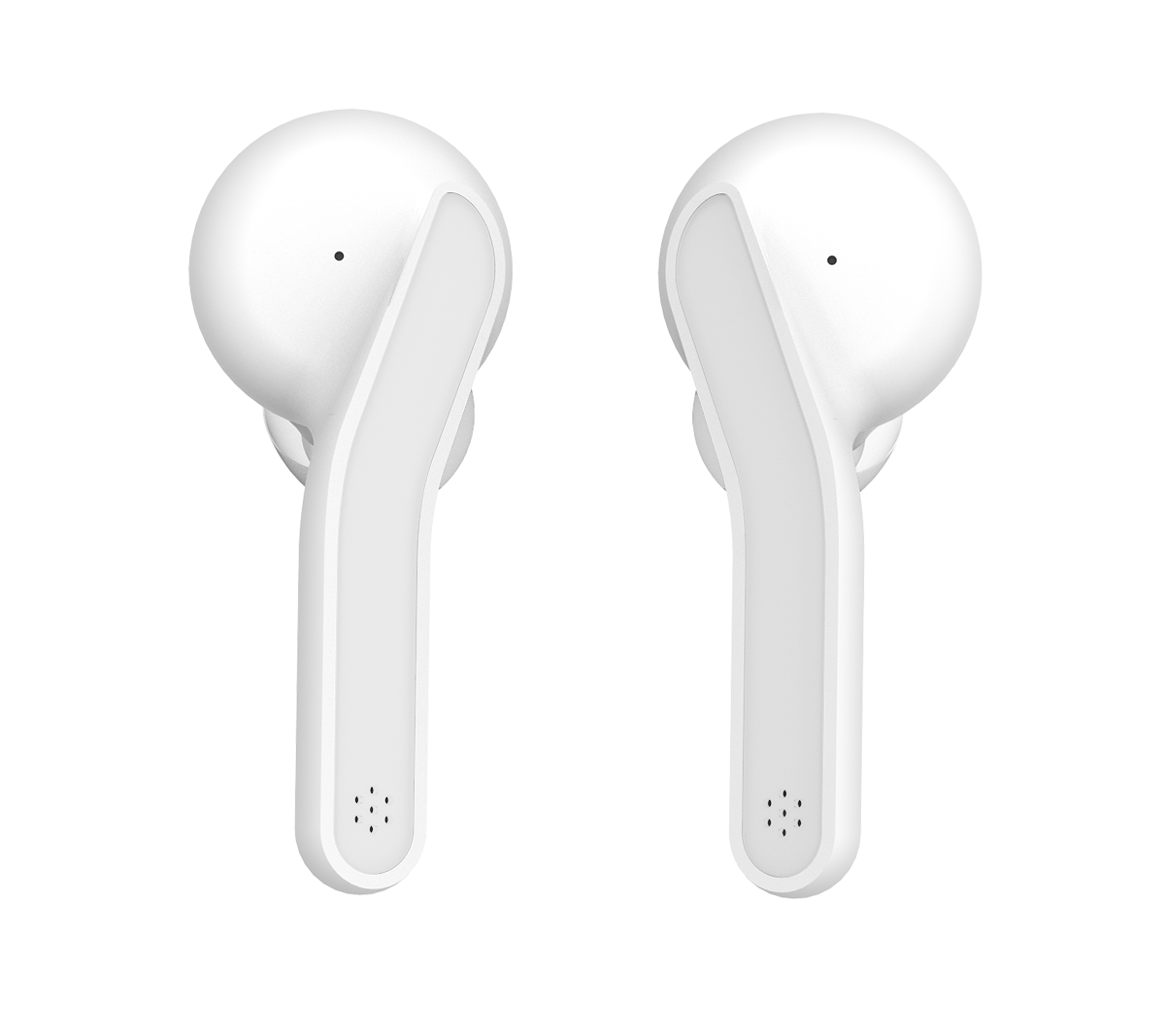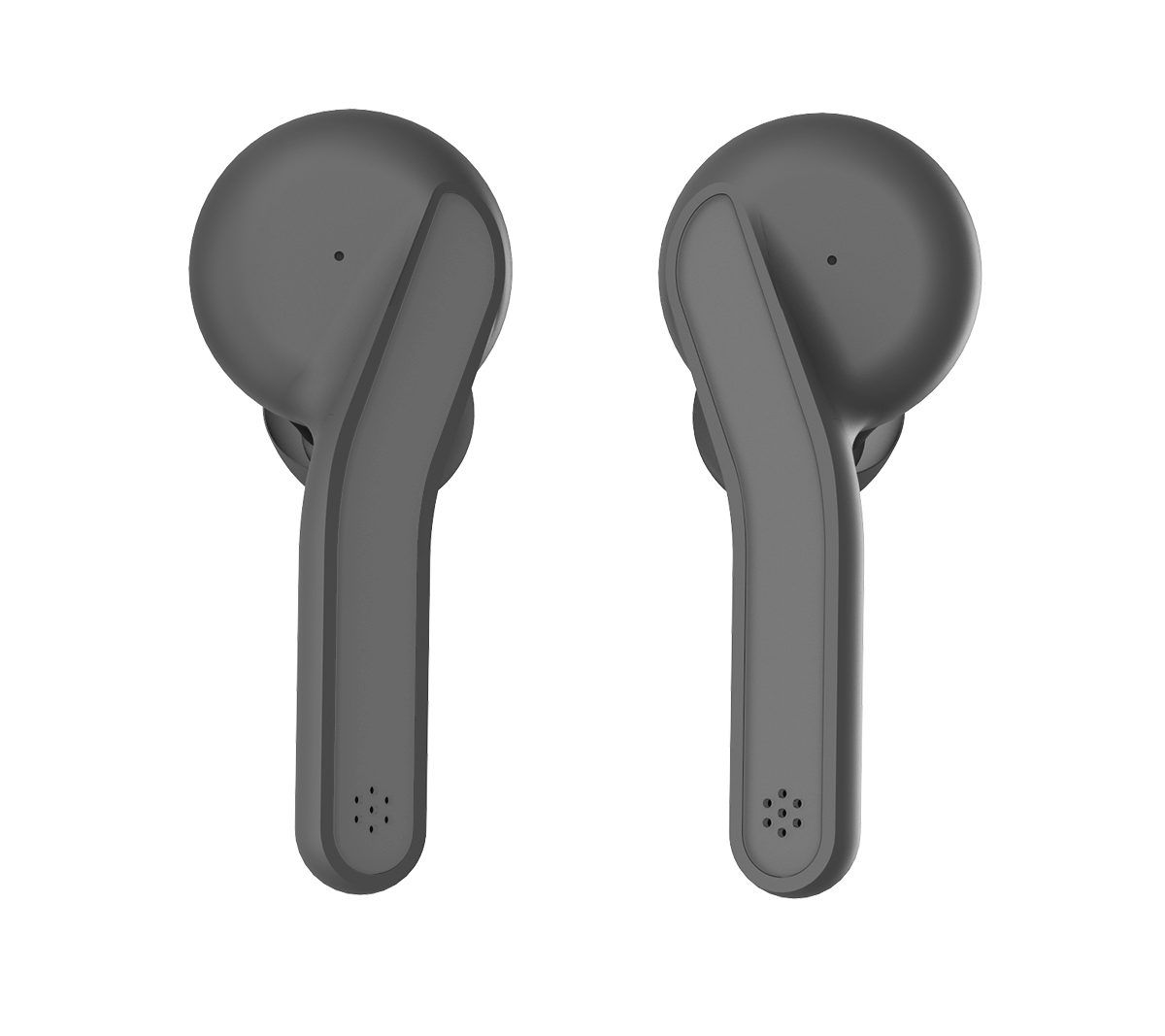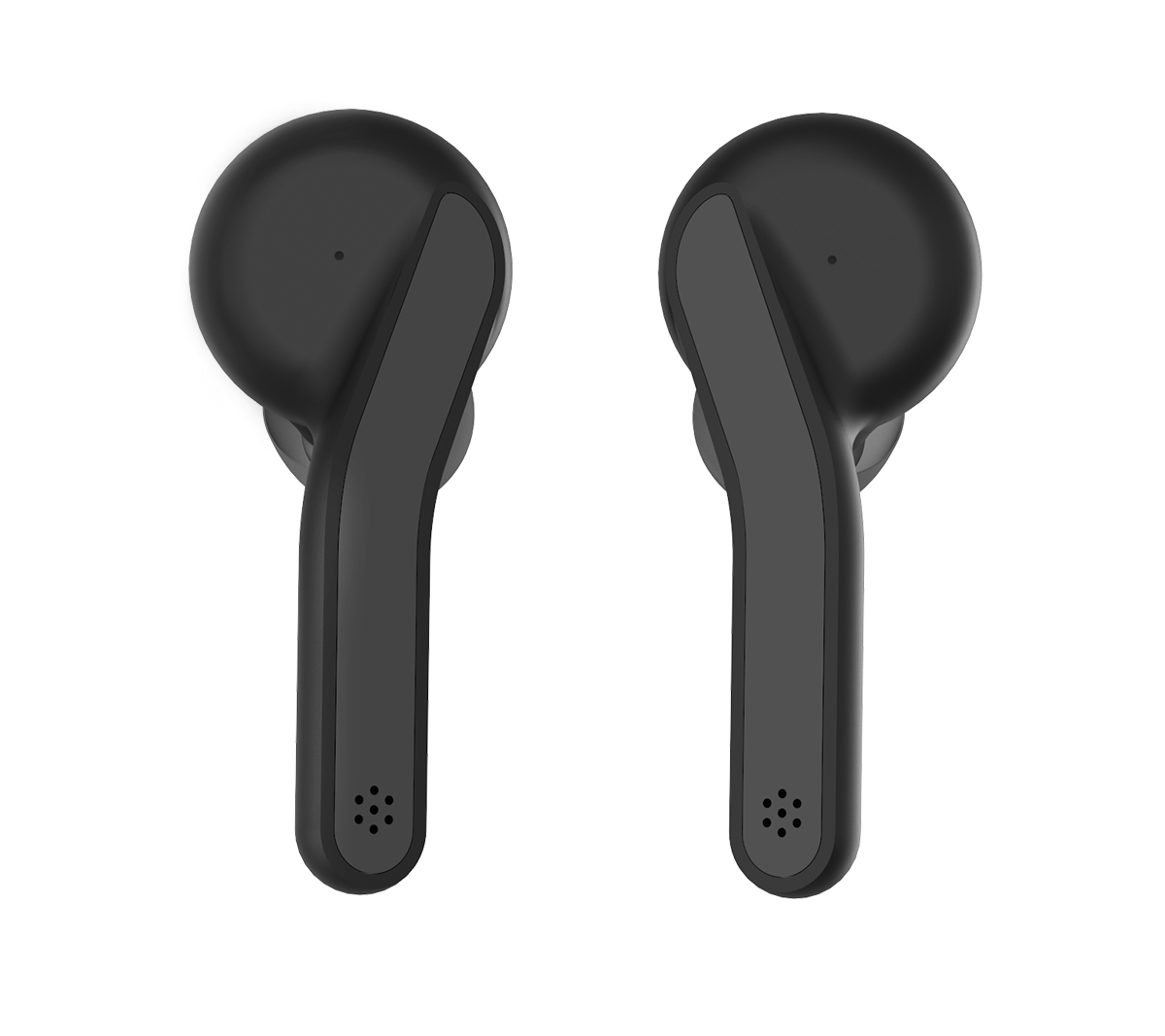 Inside the
packaging.
No details had left behind, in HYPHEN's box over the earbuds, you will find the charging case, a MicroUSB cable, the instruction manual, 3 pairs of ergonomic silicone tips and one pair of foam tips.
Market
comparison
Hyphen's Team is composed by some of the most experienced engineers in the fields of bluetooth, audio quality and battery life.
We have designed the gold standard of wireless earbuds, the following table speaks for itself: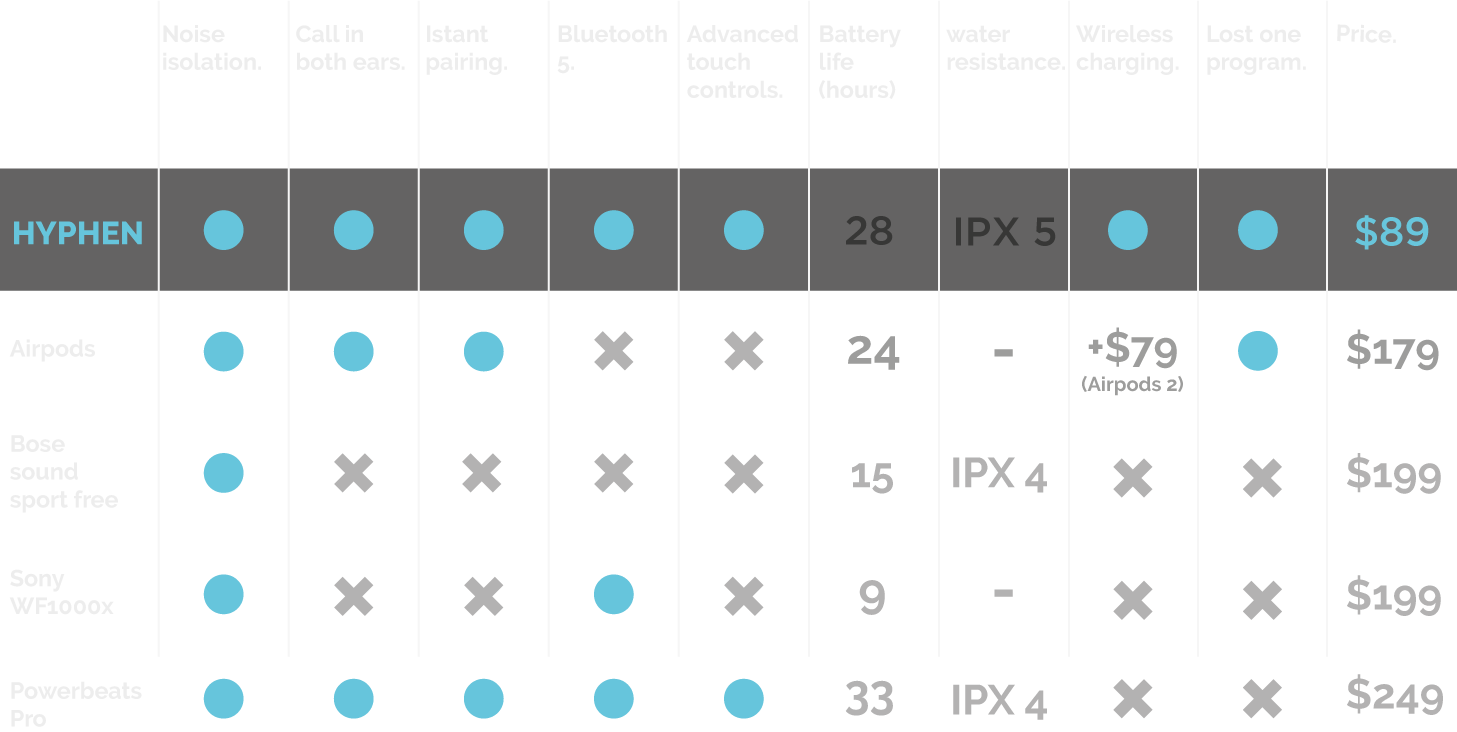 General  
Weight 
55 g
Main material
ABS
Water resistance
IPX 5
Driver
 6mm
Battery  
Earbud
 37 V, 40 mah
Charging case 
3.7 V, 400 mah
Working time 
Call: 300 min.    
Music: 270 min
Charging Time
Earbuds: 30 min      
Charging case: 60 min
Bluetooth
Version 
5.0
Trasmission distance
 up to 30 m/100ft.
Frequency response
 20-20 KH